STRAIGHT OUTTA BOGOTA – HCM's MARISSA GIZZI INTERVIEWS DUSHEY'S
KEVIN GALLAGHER
With Dushey UK crossing far across the pond to implicate their brand new 55,000 sq. ft facility, we spoke to Kevin Gallagher about their new facility in Columbia and their plans to extract CBD and THC globally.
INTRODUCTION
Dushey Colombia is set to be one of the largest cannabis extraction companies in South America. Their 35,000 sq. ft facility will be a GMP research, development and extraction hub based near the Colombian capital of Bogata. Dushey is set to be Colombia's premium vertically integrated cannabinoid producer.
All extracts produced and supplied by Dushey undergo strict testing regimes. Each process of the extraction involves an ISO 17025 accredited laboratory. Final products are tested and must pass high-quality assurance standards for terpenes, microbes, cannabinoids, heavy metals & multi-residue pesticides.

Other info to add:
Dushey are Platinum Sponsors for the next Hemp and CBD Expo taking place in Spring 2020. In September, they sponsored our first ever Hemp & CBD awards show which recognised which companies are leading the way for compliance and quality products in the industry.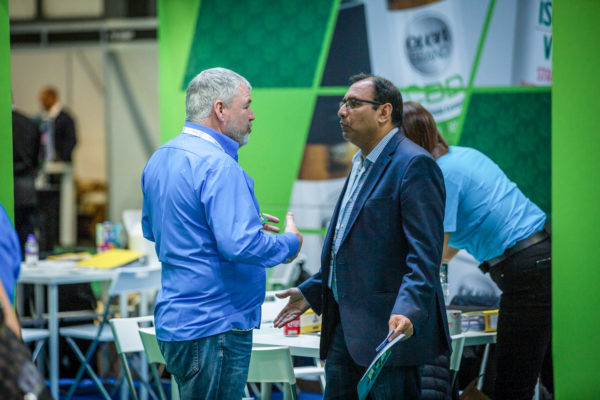 INTERVIEW
HCM: Could you tell us how Dushey came about?
KEVIN: Basically, what we wanted to do was set up a consistent supply that would go from seed to shelf and have full traceability. And because the industry is still evolving, the quality of supply has been inconsistent, we decided the best way was to do it ourselves and start our growing operation in Columbia.
HCM: Why have you decided to open your facility in Columbia?
KEVIN: Columbia is one of the best places to grow CBD in the world because it has between 12 and 13 hours of daylight all year round and you can get four crops per year instead of one in Europe.
Also because of the knowledge of growing plants and flowers out there as it is one of the largest flower exporters, it is an ideal place to maintain the crop.
HCM: Do you think this creates jobs for locals in the area?
KEVIN: It will yes. In the area where we are, it is quite rural, and unemployment is quite high.
Of course, there are others in the area setting up to grow cannabis, but you need a lot of staff to start growing. In our case we will need around 30 staff just to operate the growing process. Then following this we will create other job opportunities in the lab where we will be extracting the product and developing it for exportation.
HCM: Where do you see South America in the pecking order for cultivating hemp?
KEVIN: At the moment it is behind America and Europe, but actually in the future, it will be a leading country because of the opportunity to grow there and the yield you will get compared to outside of Latin America.
HCM: Is there anything you can tell us about your new facility?
KEVIN: The facility is in a is a well-known flower growing area called Anolima. There we are building a facility which is going to consist of offices, conference rooms and labs where we can do testing and analysing on the farm.
This is all secure. We had to secure the whole perimeter of the farm, and then additionally there is an internal perimeter which we are working on at that moment. The internal perimeter means that before you can get in you have to go through full security, which is new requirement in the law there.
Then in Tocancipa which Is just outside of Bogata, we have a 35,000 square foot facility which is office space, we're putting a lab in there and small cultivation for plant development. We are also adding a drying room, extraction room and then onward processing.
HCM: We've seen CBD isolate prices and other raw materials prices experience a tumultuous time in 2019, what do you see the market doing in 2020?
KEVIN: I believe the market will bottom out in 2020 as isolate is commoditised. We have planned for this because of the extra capacity online globally, and the growth in the market hasn't been as fast as the crop that has been planted.
However, people will fall out of the market where they don't make any money this year because the price is going down and they haven't been able to organise the crops. So, we believe next year the price will continue to fall and get to where we think is near the bottom price where isolate will be commoditised.
With distillate, whilst the price will drop, it won't drop as much as isolate because good quality distillate, which is what you need for ingestible products will hold the value. Good quality distillate is still at a premium because there are not that many around.
At the moment most distillates are boosted by isolates, which is against the Novel Foods update, meaning people should not be doing that at the moment.
The point is, is that we get compliance, and if we get compliance globally then that will help us really get rid of the people in the business who are in it for a quick buck and not for the longer which obviously is our objective.
HCM: As Dushey are platinum sponsors at our next expo in Spring, how important do you think it is for brands to establish a presence in the industry right now with all of the competition?
KEVIN: It is quite difficult to establish, but again it comes down to producing a quality product and delivering that to customers. As you are delivering quality products, customers are coming back and you are getting repeat business. With this is how you can hold a steady market presence and grow in the market.
With the new controls that have come in, others who do not follow the correct procedures will fall by the wayside. We have a compliance officer in the UK, and the whole focus of that is to ensure we are following compliance and ensuring we are up to date with legislation so that everything we do protects our customers and the consumers.
HCM: Is there anything you would like to finally discuss about the main principles of Dushey and what the facility is going to offer?
KEVIN: The key focus we want to manage is really about controlling quality and controlling a sustainable supply. By doing that, we can then support the customers and attain our long-term objective that we will have full traceability for any product that a customer will purchase. Any end consumer can then look back and trace where everything has come from and get consistency in what they are buying, which is not available on the market at this time.
Find out More about Hemp & CBD Media on our website.
Hemp & CBD Media Interview by Marissa Gizzi