CBD Isolate 99%
99%+ PURE CANNABIDIOL CBD ISOLATE (KG): 99%+ pure cannabidiol CBD isolates that is extracted from the hemp plant and the seeds are listed on the EU database of registered plant varieties. This product is made for bulk material used in vape, cosmetic and personal care products. CBD isolates are a pure, crystalline powder that contains 99%+ CBD. All the plant matter contained in the hemp plant, including oils, waxes, chlorophyll, and more are removed, and only the cannabidiol (CBD) molecule remain. ISO 17025 lab tested.
Perfect for: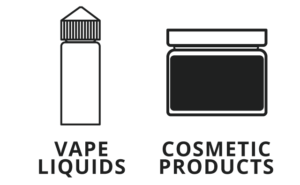 CBD Isolate UK Supplier
Are you in search of a premium way to incorporate CBD into your product line without the bitter taste of CBD oil? Look no further than CBD isolate powder, the ideal choice for bulk CBD isolate needs.
CBD isolate powder, also known as CBD crystals, represents the purest form of cannabidiol, devoid of any other cannabis plant compounds. This guarantees the absence of THC, CBN, or any potentially intoxicating cannabinoids. It's all about delivering pure, top-quality, non-psychoactive CBD isolate.
The powdered form of CBD isolate offers exceptional versatility, making it suitable for various applications. Whether you intend to use it as an ingredient or offer it as a standalone product, the choice is yours. Explore our FAQ section below for our recommendations!
In addition to our CBD isolate powder, we also stock CBG isolate powder, another cannabinoid generating significant interest in the health and wellbeing industry due to its potential health-boosting properties. Whether you require CBD or CBG isolate powder, you've come to the right place.
CBD Isolate Powder for Bulk Orders in the UK
When it comes to sourcing premium-quality CBD isolate powder in bulk for your UK-based business, Dushey is your trusted partner!
When procuring your bulk CBD isolate, it's imperative to ensure that the manufacturer adheres to strict safety and quality protocols. These are products intended for use, so trust and quality are non-negotiable.
For CBD powder in the UK, suppliers must meet stringent regulations set by the Food Standards Agency, and rest assured that all our products, including our bulk CBD isolate, comply with these standards.
In addition to our CBD isolate powder, we offer pure CBG isolate powder, allowing you to explore the potential benefits of this exciting cannabinoid. If you're interested in CBG and its potential advantages, order a free sample for our CBD samples page.
Unmatched Wholesale CBD Isolate Solutions
At Dushey, we take pride in being your preferred partner for wholesale CBD and CBG isolate solutions in the UK. We offer a seamless and reliable supply chain to meet your business requirements.
Our commitment to quality and safety is unwavering. When you choose Dushey as your wholesale partner, you can trust that every batch of our CBD and CBG isolate powder adheres to the highest industry standards. We prioritize quality control and transparency, ensuring that your customers receive products they can trust.
Why Choose Dushey for Wholesale CBD Isolate?
Premium Quality: Our CBD isolate powders are of the highest quality, ensuring your customers experience the full benefits of these cannabinoids.
Compliance: We strictly adhere to UK regulations and operate at industry leading standards, with CoA lab reports from independent third party and ISO 17025 approved laboratories, alongside MSDS sheets and product data sheets.
Competitive Pricing: We understand the importance of cost-effectiveness in the wholesale market. At Dushey, you'll find competitive pricing that allows you to maximize your profit margins.
Reliable Supply: Count on us for a steady and reliable supply of CBD isolate powder to meet your business's demands.
Outstanding Customer Support: Our dedicated support team is here to assist you with any inquiries or concerns you may have, whether that's online or over the phone.
Partner with Dushey for Your Wholesale CBD Isolate Needs
When it comes to sourcing premium-quality CBD isolate powder for your business, trust Dushey as your reliable wholesale partner. We're committed to delivering the highest standards of quality and affordability. Contact us today to discuss your wholesale CBD and CBG isolate requirements.
CBD isolate is one of the purest forms of cannabidiol available is extracted from the Sativa L variety of the hemp plant. Available for wholesale in the UK, it is often used as a raw ingredient in various indurstires (food, oils, cosmetics, vaping) and looks like a clear white powder with a consistency similar to flour.
Reaching purities of over 99%, CBD isolate is almost entirely pure cannabidiol, with only trace amounts of other minor cannabinoids, flavonoids, terpenes and other natural compounds present.
CBD isolate is a white powdery substance containing almost pure cannabidiol, with only trace amounts of other minor cannabinoids, flavonoids, terpenes and other natural compounds present.
CBD distillate is a dark, viscous oil that contains a broader range of cannabinoids, terpenes, flavonoids and other naturally occurring compounds, except for THC and other controlled substances which are removed during the extraction process.
Yes! You can purchase Dushey's bulk CBD isolate in kg units using our online CBD store and enjoy UK wholesale prices with same day despatch on orders placed before 1:00pm Mon-Fri. 
CBD isolate can be used for a wide variety of end products, making it one of the most versatile forms of CBD. Here's a list of just some of the many kinds of products CBD isolate can be used for:
Cosmetics: CBD isolate is often used in creams, balms, clay masks, body butters, bath oils and bath fizzers, shampoos, soaps, pastes and more.
Food products: CBD isolate can be easily added into food products containing oils or fats, with CBD gummies being one of the most popular forms of taking CBD in the UK.
Vape liquids: CBD e-liquids typically use isolated CBD as it absorbs easily into the oils used in vape liquids – monopropylene glycol and vegetable glycerin.
Drinks: CBD isolate can be used in some drink products, such as coffees and teas. However, CBD isolate is not water soluble on its own and must have a carrier oil in which it can properly absorb, such as vegetable oils, milks, creams, butters or any fat-based liquids.
Oils and tinctures: CBD isolate is used in a variety of oil tinctures that are taken sublingually under the tongue. Though many oils are typically broad spectrum distillates, some oils can be a mixture of hemp seed oils or MCT oils and isolated CBD.
Sprays: Just like with oils and tinctures, CBD isolate can be combined with a carrier oil and other flavourings to produce delicious CBD sprays.
Yes, in fact most vape liquids with CBD in the UK use isolated CBD as it can easily absorb into the ingredients found in e-liquids, known as VG and PG.
Some vape devices, like the EndoFlo CBD vapes, do contain full spectrum oils, though this requires specific blends of cannabinoids, high quality vape coils and precise power delivery and temperature control.
No, CBD isolate is not water soluble. It must be used with a carrier oil, such as proplyene glycol in vapes, hemp seed oil in tinctures or butter, milk or vegetable oils in cooking in order for it to properly absorb.
Yes, it is possible to add CBD isolate to a range of food products, though it is lipid soluble and will require fats or oils in order to absorb, known as carrier oils. CBD isolate will not absorb into water.
Yes, however CBD isolate is not water soluble and is therefore often found in milk based drinks or drinks with oils. It is possible to purchase water soluble CBD isolate, which is pre-encapsulated in a fatty layer which allows it to be added directly into drinks and foods.
This depends on what quantity of CBD isolate you are looking to buy and can vary in price due to market conditions. However, typically one kilogram of pure CBD isolate can cost anywhere between £230 – £600 depending on the quality, purity and global supply and demand factors.
Yes, many CBD gummies use isolated cannabidiol as it can easily absorb into the oils used in the ingredients. CBD isolate also has a less prominent taste than CBD distillates and oils that often have a distinctive, earthy hemp flavour than can affect the taste of sweet candies and jellies.
CBD isolate is not a liquid, raw isolated cannabidiol is a white powdery substance that resembles the texture of flour. It is not water soluble and is instead lipid soluble (absorbs into fats and oils) but it can be added to a carrier oil, such as hemp seed oil or milk, and cooking oils as an additive which can then be used as a liquid.
Additional information
| | |
| --- | --- |
| Weight | 1 kg |
| MOQ | 1KG |
| CBD Type | Isolate |
| Total Cannabidiol | 99% (CBD+CBDa) |
| Container | Round white container(s) with a sealed plastic bag. |
| Form | Powder |
| Suitable for | Vegetarians and Vegans |
| Organic certification | Not organic certified |